FREE DOWNLOAD
What Employers Can Learn From Amazon's Career Choice Program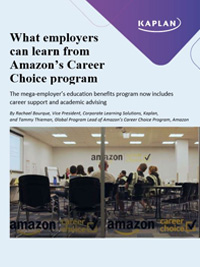 Amazon recently launched an innovative partnership with Kaplan North America, in which Kaplan career and academic advisement support services are being made available to the 750,000 hourly Amazon employees in the U.S.
Rachael Bourque, Kaplan's vice president of corporate learning solutions and Tammy Thieman, global program lead of Amazon's Career Choice Program, share why this support is critical for an effective employee education program, as well as the essential elements of a next-generation employee development program.

Kaplan is recognized as one of the world's largest and most diverse education providers and is the preferred education partner of 4,000+ global business leaders. With global reach and regional expertise, we enable companies to optimize business results by providing innovative and tailored learning and development solutions and services. From personal development programs to entirely customized employee degree and licensing plans, we'll partner to achieve your organization's unique objectives. Powered with 80+ years of experience, we work with you to strengthen your workforce, help you retain top talent, and maximize the success of your organization.